The anaesthesia team provide support to the other clinicians any time a procedure needs to be carried out under general anaesthetic.
In this way, expert trained staff take care of patients while they are anaesthetised, allowing the primary clinician to focus on the main procedure. The anaesthetists work behind the scenes, which means that usually they do not have contact with owners. However, they are available on request. If your pet requires a general anaesthetic and you would like to speak with one of the anaesthesia team, please ask the primary clinician or reception to organise it for you.
The anaesthesia service at VSS is led by specialist anaesthetists and a residency trained clinician supported by interns and highly qualified nurses. Our goal is to ensure the maximum level of patient safety and comfort.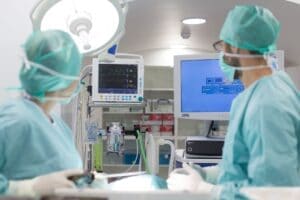 Each patient requiring general anaesthesia is assessed by a member of the anaesthesia team. Clinical history is reviewed and together with the clinical examination and the laboratory results is used to tailor an individual anaesthetic plan.
The anaesthetists ensure appropriate and adequate pain relief is administered to any patient undergoing a procedure. There are a number of ways of providing this, including oral and injectable medication and loco-regional techniques such as peripheral nerve blocks and epidural injection.
We use highly sophisticated anaesthetic machines and monitoring equipment, which our expert staff have been trained to use. We routinely measure a number of parameters (including blood pressure and heart rate and rhythm) throughout each anaesthetic. Further, we have implemented safety check lists in our daily routine, as advised by the Association of Veterinary Anaesthetists to ensure the correct functioning of the equipment before each use and promote patient safety during each procedure. The anaesthetists take care of patients from when the premedication is given to recovery. Following recovery, we continue to work closely with our clinical colleagues and the nursing teams to ensure pets remain comfortable and anxiety free throughout their stay.
Services provided:
Sedation for high risk patients
Peri-operative management of patients with airway disease (brachycephalics and laryngeal paralysis)
Emergency patient stabilisation and general anaesthesia
ICU support
Pain management
Anaesthesia and Analgesia Facilities
Meet the Anaesthesia and Analgesia Team